Link to Original Article by Maria Perez
There are many iconic scenes in "A Christmas Story": Flick's tongue getting stuck to a flagpole. Ralphie getting his mouth washed out with soap. The "deranged Easter bunny" suit. And, of course, the leg lamp. Who can forget the leg lamp?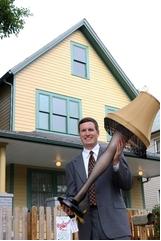 Not Brian Jones, owner of A Christmas Story House in Cleveland. Jones, who is profiled on ProfNet Connect, is an expert on the holiday movie and can share facts and trivia about the film and the actors.
In 2003, Jones launched a business that sells leg lamps just like the one featured in the film. In 2004, he purchased the Cleveland home used in the movie off of eBay and restored it to its original movie splendor. A Christmas Story House opened Thanksgiving weekend 2006 and has become a top tourist destination. In 2008, Jones hosted A Christmas Story 25th Anniversary Celebration & Convention in Cleveland, which included a reunion of original cast members.
Jones took some time out of his busy holiday schedule to answer a few questions for us:
Can you tell us a little more about the house? What should people know about it?
The house is in Cleveland, at 3159 W. 11th St., just five minutes from downtown. I purchased it sight unseen off of eBay in 2004. I renovated it back to how it appeared in the movie (inside and out) and it opened the day after Thanksgiving in 2006. This month will mark our fifth anniversary.
The movie's production crew chose Cleveland because the Higbee's department store would let them film inside, when several other department stores had already turned them down. To find a house, they simply fanned out from downtown. This house was available and had the backdrop of steel mills in the valley behind the house. Steel mills were a big part of the author's childhood in Hammond, Ind. Also, no house was on the left side to give a better camera angle. It was an available rental property. The house was mostly used for exteriors, with only a couple interior shots. The rest was filmed on a sound stage in Canada.
What we try to recreate is a feeling that you really are at Ralphie's house inside and out, so that you can relive the movie. The house across the street serves as a museum, with original props and costumes, as well as behind-the-scenes photos and information.
When did you know you wanted to make the film such a big part of your life and career?
Never. I wanted to fly jets for the Navy; I just stumbled into this. I started making leg lamps in my condo and selling them online part-time. The response was great, so I decided to leave the Navy to do it full-time. The second year was better than the first — I had trouble keeping up with demand. That same year, the house came up for sale, and I simply figured that if this many people wanted a leg lamp, then a large number of people would also like to come see the house. A part of it was also that I am a fan and wanted to see a piece of Americana saved and cherished. I figured there was nothing to lose. Why not give it a shot?
What about the film appeals to you?
It's hilarious and relatable at the same time. You can relate to Ralphie's experiences in the movie presented in such a comical but true-to-life way. All the dynamics of being a kid, and being a kid at Christmas, are here: the double standard of your dad cursing all the time but it being the end of the world if you say one curse word; the peer pressure to do a dare you know you should not; the family dynamic between the mom and dad over the stuff he thinks is great that she can't stand; campaigning so hard for that one thing you really want for Christmas; the first time you realized there are a lot of gimmicks out there.
Has making a career out of the film changed the way you experience the holidays?
I work a lot more around the holidays. Before this, the holiday season was when I took the most time off, so it a complete switch. In fact, it's now the time of year I work the most. Watching the film is different too. I can still get into it, but it takes me a little longer to suspend reality and just enjoy it. I now know all the actors personally — I know their real personalities in addition to their character personalities. I just know so many of the ins and outs of the film that I enjoy it in a different way now.
Why should families today care about "A Christmas Story"?
It's a great family film and a classic that is true to the American Christmas experience. It's the classic Christmas movie of this generation. It shows Christmas as it really is, with fun and festivity but also the stress and hectic worry that are part of the holidays.
When does one cease to be a "superfan" and start to be an expert about a film?
I just happened to me out of circumstance. I needed to know things to make sure the house was accurate to the movie. People would start to ask me questions and expect me to know the answer because I owned the house. So I just started talking to people who were involved in making the movie or knew stuff about the film.
Do you have any memorable holiday stories of your own? I campaigned for a year to get a dog. I was just as sure as Ralphie that it was never going to happen. But it was my Christmas present that year — the greatest present I ever received, better than the Millennium Falcon I had gotten a few years earlier.
Anything else you'd like to add?
Merry Christmas!